Thank you for helping us make a difference this season!
Donations are Now Closed
Joyce University kicked off its 4th Annual Halloween Costume Drive to support the patients at Primary Children's Hospital on October 1st, 2022, and accepted donations through October 21st. This year, the Joyce community stepped up to deliver more than one thousand donations to the kids at Primary Children's, meeting 100% of their holiday needs! Together, we helped create our most spooktacular Halloween yet with your donations of new, unused costumes for kids of all ages. See the list below for a complete list of donations.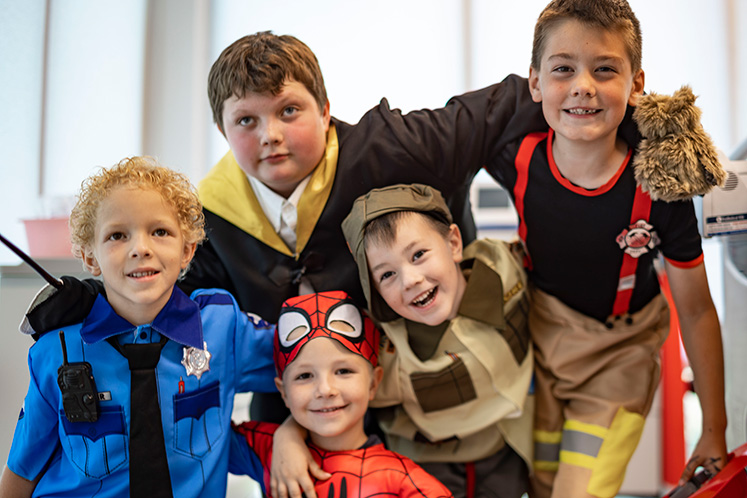 How to Donate
DONATIONS ARE NOW CLOSED
There were many ways to contribute to our Halloween drive this year. In addition to physical donations which were made at our Draper campus in Utah, we also accepted Amazon deliveries and monetary donations.
Monetary Donations
Don't have time to shop? Make a monetary donation via PayPal.
Amazon Donations
Joyce University
c/o Halloween Drive
12257 Business Park Dr
Draper, UT 84020
Drop-Off Donations
There will be donation bins in the front campus atrium at
Joyce University
12257 Business Park Dr
Draper, UT 84020

What to Donate
In 2022, we exceeded our goals with your help! In addition to new, unused costumes for kids of all ages, we also raised donations for the following spookatcular items:
Nearly 800 Costumes Donated
0m-6m: 89 costumes, onesies, bibs, blankets, accessories, etc.
6m-12m: 43 costumes, onesies, bibs, blankets, accessories, etc.
12m-24m: 71 costumes
2T: 17 costumes
3T: 5 costumes
4-6: 0 boy costumes, 0 girl costumes
7-8: 38 boy costumes, 38 girl costumes
8-10: 16 boy costumes, 26 girl costumes
10-12: 32 boy costumes, 27 girl costumes
12-14: 15 boy costumes, 14 girl costumes
14+/teen: 22 boy costumes, 11 girl costumes (t-shirts, onesies (huge hit), etc.)
Accessories: Headbands/headpiece, capes, masks, hats (witch, superhero, prince/princess), costume jewelry, teeth, tattoos, beards/mustaches, etc.
200 Trick or Treating Buckets Received
165 buckets (*a mix of Halloween themed and other themes like cartoon characters are ideal)
150 Pounds of Candy and 455 Prizes Collected
*Please do not package candy and prizes in cellophane bags. We prefer they come in original packaging, as bought in store.
Candy
Chocolate
Gummies
Licorice
Lollipops
Sour candies
Prizes (*not holiday specific)
Stickers
Small coloring books
Mustaches
Tattoos
Slime
Play-doh
Bouncy balls
Little trinkets, etc. (oriental trading is a good place to look)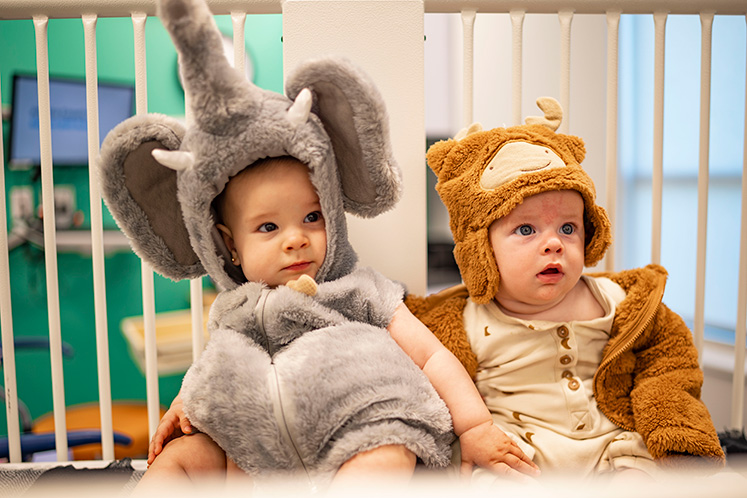 In-Kind Donation Guidelines
While we love receiving your gifts and in-kind donations, for the protection of Primary Children's patients, there are restrictions surrounding this process. Please review the following guidelines carefully to be certain your donations are acceptable.
All donated items must be new. No used items will be accepted.
Donations cannot have any donor identification or contact information (i.e. first or last names, phone numbers, email addresses, website, blogs, personal stories, etc.). If donations include any personal information, they will either be removed before distribution, or the donation may be declined based on the discretion of Foundation personnel.
Donors will not be allowed to personally deliver gifts to patients or families.
Donors should not expect to receive pictures, stories, or updates from patients or families.
No medical equipment, baby formula, or wheelchairs are accepted.
We do not accept violent toys or games (such as toy guns) or paddle balls.
For durability and safety purposes, we prefer name brand items when possible.
We do not accept gift-wrapped items.
This event is now closed. Our 5th Annual Halloween Drive is Coming October 2023!